Patrons Willing to Put Their Phones in Cage Get Discount at This Restaurant
3 min read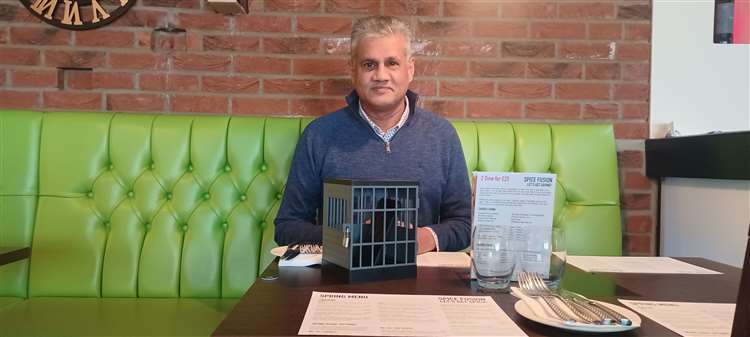 Restaurateur Rajeev Gupte has always been involved in his community, but he's taken social experimentation to a new level.
Gupte, the owner and general manager of Spice Fusion in Kent, England, initiated a special offer to patrons that started on March 7 and is continuing every Monday: Groups of four or more dine-in individuals would receive a 20 percent discount on their bills.
However, there is a catch. All patrons must lock their smartphones in a padlocked "jail" resting on the table for the duration of their meal. The deal has been advertised on the restaurant's social media channels.
Coined with the tagline "Dinner is Better When We Eat Together," Gupte said the initiative was aimed to give people a better opportunity to enjoy each other's company, "so everyone can concentrate on the important things."
"The idea itself came from my chef (Abul Hussain)," Gupte told Newsweek. "He had been to London with his family and they had a meal somewhere. The idea was that if you didn't use your phone you got a discount. We took it a step further and actually bought phone jails. They do actually look like jail cells, so we gave it a bit more of a twist and something more interactive."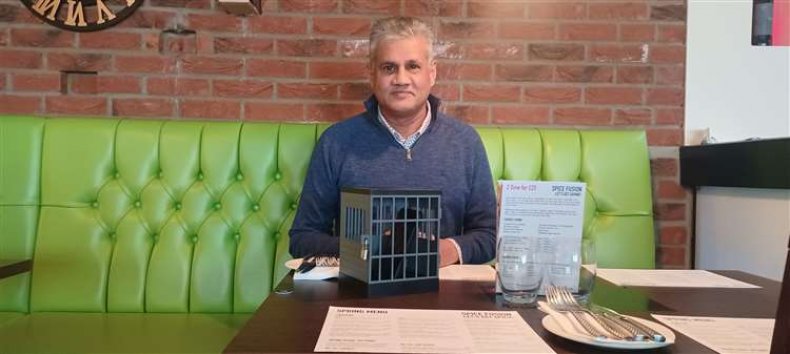 Gupte said a couple other restaurants have taken similar measures. The offer at his establishment competes against a "Dine for 25 Pounds" offer Monday through Wednesday, which he says can be a "tough act to follow" as far as midweek food deals go.
"They think it's fun," Gupte said of patrons that walk through the doors on Mondays. "It's a good way to get a discount, and actually they do end up talking. It's a natural thing; you don't meet your friends and not talk with them. I think what it's taking away is the annoyance that four friends have met up and one is on the phone all the time and they get kind of excluded from conversation."
He has found that most of the clientele utilizing the phone jails, which include keys offered to patrons in case of emergencies, are younger people. It's typically more friends who abide by it, rather than families.
Mondays made sense to test the theory, Gupte added, because typically Indian restaurants in the United Kingdom do half to two-thirds of their weekly business on Fridays and Saturdays, whereas other days tend to be quieter.
"Much of what we do is to try and get people in on off-peak days," he said. "We don't need to entice people in on the weekend."
Statista posted in January that in 2021, smartphone users in the U.K. spent an average of four hours per day on their mobile devices—an increase from the 3.7 hours that users spent on phones in previous years. Use has been described as "a slow but constant increase."
About 87 percent of Statista survey respondents aged between 16 and 24 said they mostly use smartphones for internet access, while 92 percent of those aged 55 and over use smartphones to access the internet.
As Food & Wine reported earlier this month, this "phone jail" phenomenon is not entirely new. In 2017, London's Tea Terrace Restaurants and Tea Rooms debuted its "phonetentiary" for customers to also stash devices. The Fat Boar pub in Wrexham, England, did the same while Bistecca in Sydney, Australia, introduced its "Digital Detox" program that involved customers giving up their phones at the door upon entry.
Gupte admits there is "a shelf life" for promotions like these, but people have taken to the idea the past five or so weeks. He enjoys offering new things to the community, as well as helping others.
The restaurateur also told Newsweek that his restaurant recently fundraised nearly 6,000 pounds or approximately $7,600 for Ukraine amid the ongoing war with Russia. Additionally, between November 2020 and March 2021, in the midst of the U.K.'s second COVID-related lockdown, Spice Fusion made and delivered about 8,000 total meals for disadvantaged and vulnerable children.